CREATING A NEW
OCEAN STARTUPS GENERATION
Bluetech is looking for bold and disruptive solutions to be developed and piloted alongside world-class partners and contribute to completely reshape the industry.
This report aims to provide detailed insights on the pilot projects that were conducted between the program partners and the selected startups of the first edition of Bluetech Accelerator, and to describe, when possible, the potential impact of the startups solutions in a scenario of full deployment by the acceleration partners.
Pilot groundbreaking solutions with:
The Port of Leixões is the largest port infrastructure in Northern Portugal and one of the most important in the country, equipped with modern facilities and advanced ship management systems. The Port de Sines is the leading national port in volumes of cargo handled, being also the leading container port in the country.
Inmarsat is the pioneer and world leader in mobile satellite communications, powering global connectivity for nearly four decades.
With a deep focus on the international market, Portline Ocean has developed a remarkable expertise in the transport of dry bulks and containers, together with all the related shipping activities.
What Startups can expect from Bluetech:
In a sea of accelerators (pun intended) we are all about tangible solutions and partnerships. Bluetech is focused in concrete industries – Ports & Shipping for the program's 1st edition – and we have a B2B approach, connecting two Portuguese Ports and world leading companies with startups in order to bring value to the partners and business to the participating startups.
This is a unique opportunity to sail towards growth and scale your business while disrupting the ports & shipping industry
Access to world-class partners to develop and pilot groundbreaking solutions
Access to the biggest industry event in Europe – European Maritime Day
A team of experienced facilitators managing the programme
We need your solution to address these industry pain points:
1. Process Optimization in Port Hinterland
includes
The concept of extended gateways, rapid container release operations and efficient land-side intermodal forwarding of loading units.
Data analytics for complete vessel situational awareness and real-time information of all critical ships operations and cargo flow.
Security profiling illicit activity at sea, operational risk assessment and dynamic pricing insurance.
2. Cargo and Fleet Performance Management
includes
Use of historical data, statistical algorithms and machine learning techniques to avoid port congestions, delays, and other port operational inefficiencies. Use of historical data of vessel geolocation to drive product innovation.
Use of digital twin for ports and vessels allowing ports to create testing scenarios and producing valuable insights from data.
3. Future Shipping Connectivity
includes
Enabling ports and cargo to be "connected and linked".
Ship chartering marketplace allowing shipowners, charterers and operators to choose best freight rates according to a placed position and cargo space availability.
Voyage optimization, situational awareness for the fleet operator, real-time scheduling and environmental compliance.
4. Environmental Sustainability
includes
Reducing port environmental footprint and monitoring air, water and noise pollution through smart technologies.
Reducing ship air pollution and, increasing efficiency of ship-generated waste.
Use of air drones and micro-satellites. Environmental compliance through early detection of potential hazards; offshore infrastructure maintenance, reducing downtime, repair needs, and required inspection.
Technologies ENABLING CHANGE IN PORTS AND SHIPPING 4.0 WE ARE LOOKING FOR
Smart Shipping
E-navigation
Artificial Intelligence
E-platforms
Sea Traffic Management
IT for Green shipping
Ocean IoT & Sensors
IT for Energy Efficiency
Ports Automation & Robotization
Sea Surveillance
IT for Propulsion and Power Generation
AI/Machine Learning
Robotics
Blockchain
Big Data & Analytics
IT for Green Ports
Autonomous Systems
Drones
Self-cleaning and Self-repairing Materials
Startups we are looking for:
PRODUCT WORKING PROTOTYPE OR MVP
ESTABLISHED FOUNDING TEAMS
We are looking for startups whose solutions match the Partners' needs. We will select the best pool of startups based on a few criteria such as growth potential and scalability, solidness of business model; and complementarity of skills within the team.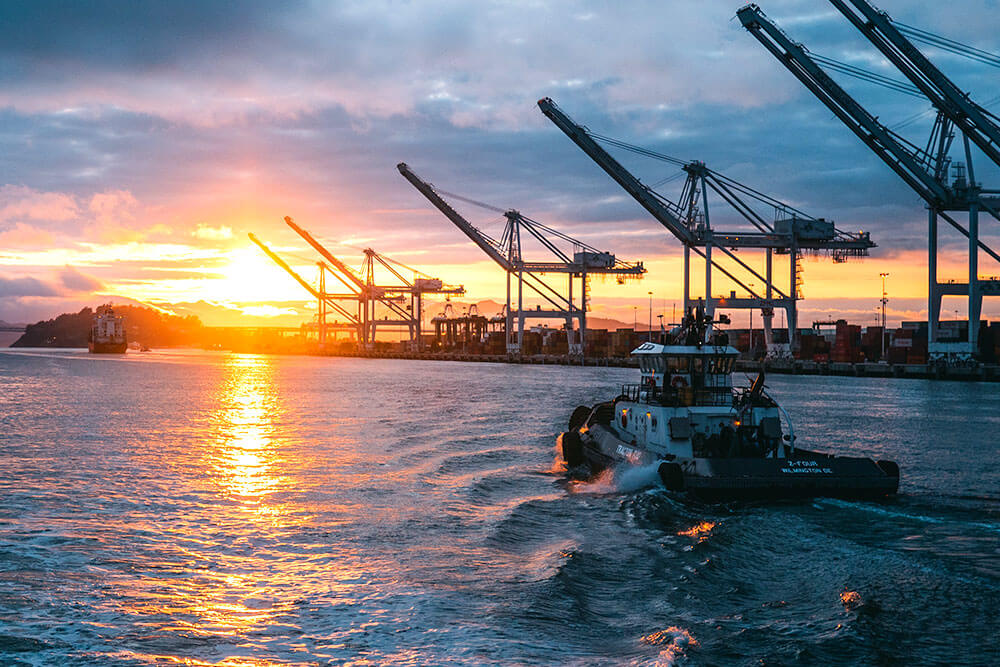 APPLICATIONS
2 Months March 1 – April 19, 2019
It all starts with your online application. We will assess your fit with the program. The top 40 scores will enter into an online pitch session which will occur during the open door event European Maritime Day, held in Lisbon. The selected best 20 startups will move forward to the Bootcamp.
BOOTCAMP
1 Week June 24 – 28, 2019
The Top 20 startups will be invited to join the one-week Bootcamp benefiting from learning about business model innovation, startup methodologies and tools, get additional product validation, define the value proposition and a business case to present to the Partners. The best startups will have the opportunity to work together with one or more Partners in developing a pilot.
Pilot Development
10-14 Weeks June 28 – October 4, 2019
The 10 selected startups that are going to be part of the accelerator will enjoy 12-14 weeks of close collaboration with the Partners.
These startups will also benefit from the access to Partner's collaborators and mentors in the program, together with Beta-i's network.
DEMO DAY
November 29, 2019
This is D Day. All the finalist startups will be presenting their solutions. It will be a public event where you will find potential investors, media, Partners and Beta-i representatives, among other invited guests from the Ports & Shipping industry.